THE IMPROVED WAY OF OBTAINING AN IMPECCABLE, NON-PAIN EYEBROW CUTTING
For optimal results, Flawless Brows should be used on clean and dry skin that is free of makeup or any creams or lotions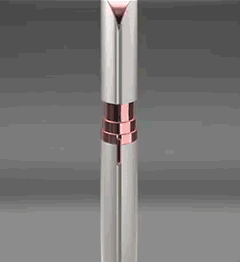 ✨From the manufacturers of Finishing Touch Flawless, comes Flawless Brows, your new best kept secret on maintaining perfect eyebrows. Flawless Brows is the perfect cleanup tool to maintain that "fresh out of the salon" look for your eyebrows. There is no better or painless way to upkeep the time between shaping, waxing or threading your eyebrows.✨
AWARD WINNING FEATURES:
😍Precision Tip: removes even the smallest hairs
😍18K Gold Plated: Hypoallergenic and Dermatologist Approved
😍Pain Free: use it like an eraser
😍Perfectly Balanced: easy to hold
😍Gentle on all skin types and easy to use every day
😍Built in LED light for added visibility
😍Discreet and portable: use it anytime and anywhere
✨ PERFECT FOR EYEBROWS DESIGN ✨
Finishing Touch Flawless Brows is designed with precision engineering to help you maintain perfect eyebrows.
Maintain Flawless Brows without the pain.
Hairs aren't long enough to wax and plucking is time consuming and hurts! Flawless Brows is a perfect replacement for your painful tweezers.
✨NO MORE TWEEZERS!✨
Flawless Brows is an everyday maintenance clean up tool to be used in between your regular eyebrow wax or threading appointment. It is not recommended for shaping your eyebrows.
 ✨PERFECT FOR EYEBROWS✨
Precision tip helps remove unwanted hairs and maintain eyebrows. Target the smallest areas to maintain those perfect eyebrows.
✨Built In Light: Lets You See Even the Finest Hairs✨
For optimal results, Flawless Brows should be used on clean and dry skin that is free of makeup or any creams or lotions. Pull skin tight and move the unit in small, circular motions. Flawless Brows is not recommended for trimming or shaping eyebrows.